Restorative Dentistry
Restorative dentistry can help you keep your teeth a lifetime. Procedures, such as a filling, a crown, or a root canal, can fix problems and prevent even larger ones from developing. Crowns make natural teeth look great, and dental implants replace missing teeth and improve chewing function. In short, restorative dentistry helps you smile without covering it up.
What is restorative dentistry?
Restorative dentistry restores your smile by replacing or fixing missing or damaged teeth. Tooth fillings, crowns (caps), bridges and implants are some of the methods we use to do this. Our goal is for you to have a beautiful and healthy smile and to eliminate any future oral health problems.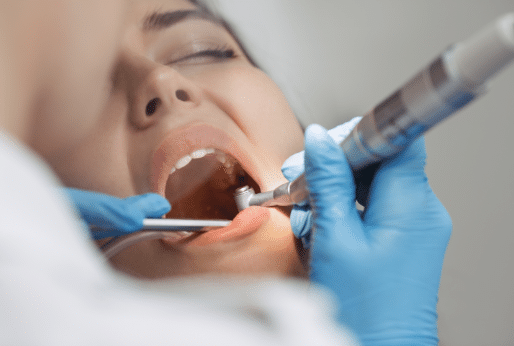 Dental Implants
A dental implant (also known as an endosseous implant or fixture) is a surgical component that interfaces with the bone of the jaw or skull to support a dental prosthesis such as a crown, bridge, denture, facial prosthesis or to act as an orthodontic anchor. The basis for modern dental implants is a biologic process called osseointegration where materials, such as titanium, form an intimate bond to bone. The implant fixture is first placed so that it is likely to osseointegrate, then a dental prosthetic is added. A variable amount of healing time is required for osseointegration before either the dental prosthetic (a tooth, bridge or denture) is attached to the implant or an abutment is placed which will hold a dental prosthetic.
Periodontal Therapy
Treatment of periodontitis may include several steps, the first of which often requires the removal of the local causative factors in order to create a biologically compatible environment between the tooth and the surrounding periodontal tissues, the gums and underlying bone. Left untreated, chronic inflammation of the gums and supporting tissue can raise a person's risk of heart disease.[4]
Prior to beginning these procedures, the patient is generally numbed in the area intended for instrumentation. Because of the deeper nature of periodontal scaling and root planing, either one half or one quarter of the mouth is generally cleaned during one appointment. This allows the patient to be entirely numbed in the necessary area during treatment. It is typically not recommended to have the entire mouth scaled at one appointment because of the potential inconveniences and complications of numbing the entire mouth- i.e., inability to eat or drink, likelihood of self injury by biting, etc.
Generally, the first step is the removal of dental plaque, microbial biofilm, from the tooth, a procedure called scaling. Root planing involves scaling the tooth's root. These procedures may be referred to as scaling and root planing, periodontal cleaning, or deep cleaning. These names all refer to the same procedure. The term "deep cleaning" originates from the fact that pockets in patients with periodontal disease are literally deeper than those found in individuals with healthy periodontia. Such scaling and root planing may be performed using a number of dental tools, including ultrasonic instruments and hand instruments, such as periodontal scalers and curettes.
The objective for periodontal scaling and root planing is to remove dental plaque and calculus (tartar), which house bacteria that release toxins which cause inflammation to the gum tissue and surrounding bone.
Removal of adherent plaque and calculus with hand instruments can also be performed prophylactically on patients without periodontal disease. A prophylaxis refers to scaling and polishing of the teeth in order to prevent oral diseases. Polishing does not remove calculus, but only some plaque and stains, and should therefore be done only in conjunction with scaling. Watch Erica's Triangle Tooth Talk to learn more.
Removable Dentures
Dentures, also known as false teeth, are prosthetic devices constructed to replace missing teeth; they are supported by the surrounding soft and hard tissues of the oral cavity. Conventional dentures are removable (removable partial denture or complete denture). However, there are many denture designs, some which rely on bonding or clasping onto teeth or dental implants (fixed prosthodontics). There are two main categories of dentures, the distinction being whether they are used to replace missing teeth on the mandibular arch or on the maxillary arch.
Root Canal Treatment
Treatment of the root canal is the anatomic space within the root of a tooth. The total number of root canals per tooth depends on the number of the tooth roots ranging from one to four, five or more in some cases. Sometimes there are more than one root canal per root. Some teeth have a more variable internal anatomy than others.
Dental Fillings
A dental restoration or dental filling is a dental restorative material used to restore the function, integrity and morphology of missing tooth structure. The structural loss typically results from caries or external trauma. It is also lost intentionally during tooth preparation to improve the aesthetics or the physical integrity of the intended restorative material. Dental restoration also refers to the replacement of missing tooth structure that is supported by dental implants.
Have Questions?
We encourage you to contact us whenever you have an interest or concern about dentistry procedures such as porcelain veneers, dental implants, and teeth whitening in Raleigh. Please fill out the form below and a member of our team will reach out to you shortly. Thank you.