Cosmetic Dentistry
If your smile needs tweaking, consider cosmetic dentistry, a popular option for patients dealing with a variety of cosmetic concerns. Our skilled team at Triangle Dentistry will build a personalized treatment plan, that will give you the confidence to show off your smile. Schedule an appointment with us to learn more about our cosmetic dentistry services.
What is cosmetic dentistry?
The purpose of cosmetic dentistry is to improve the beauty of your teeth or smile. Services and treatments can be performed for a variety of reasons, ranging from aesthetic improvement to the correction of damage sustained from an injury.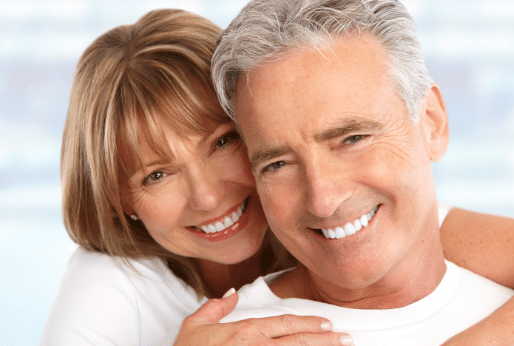 Crowns
Have damaged teeth or large, unsightly fillings? A dental crown can help protect the remaining tooth and add stability for chewing. Crowns fit over existing teeth or a dental implant, and are fabricated out of a desired material such as gold, or porcelain. Porcelain crowns are highly recommended for patients who would like their crown to match the translucent color of a natural tooth.
Teeth Whitening
A white, radiant smile is one of the first attributes a person will notice. Although tooth discoloration is common, it can affect a person's confidence. Many people are embarassed by off-white, yellowing, or stained teeth, opting to hide their smile. Triangle Dentistry uses the Opalescence​ teeth whitening system as well as custom bleach trays and take home whitening gels to uncover your best smile.
Veneers
If the surface of your tooth has imperfections, a veneer may be the right choice for you. Veneers are extremely thin, but gain a great deal of strength and durability when bonded to natural teeth. Porcelain veneers, a smooth, non-porous ceramic material, have been improving smiles of Triangle Dentistry patients for decades, and are used for reshaping teeth and repairing larger chips and cracks.
Who needs cosmetic dentistry?
Cosmetic dentistry is available to patients of all ages, ranging from youths to seniors. Depending on the type and severity of an issue, a cosmetic procedure may be administered during childhood or anytime during adulthood.
Patients may have a specific issue (e.g. a misalignment or discoloration) they want treated, or they might have suffered injuries that caused physical damage to their teeth. Other patients may just want an improved smile but need help to achieve the desired result.
What Can You Expect From a Cosmetic Dentist?
Most cosmetic dentistry procedures usually involve a multiple-stage process. These stages may occur in quick succession or some time might need to pass between each step. It all depends on what is being done. The first step to your perfect smile is a consultation with one of our skilled cosmetic dentists. During this initial consultation, you will discuss your desired end-result and based on the current state of your teeth, the dentist will recommend one or more procedures that are appropriate.
Throughout the entire process, from the initial consultation to the final treatment, your dentist will be there to answer any questions you have and make sure you're happy with how treatment is progressing. With the guidance and expertise of our staff, you'll soon have a brand new smile.
Before and After Cosmetic Dentistry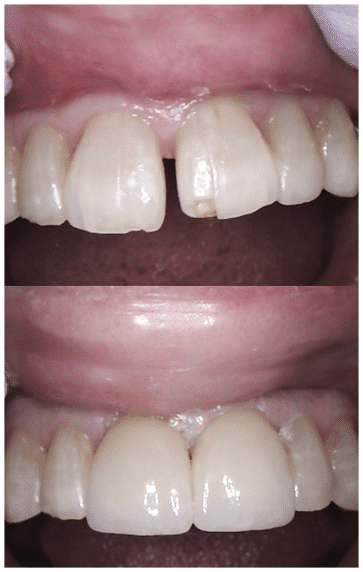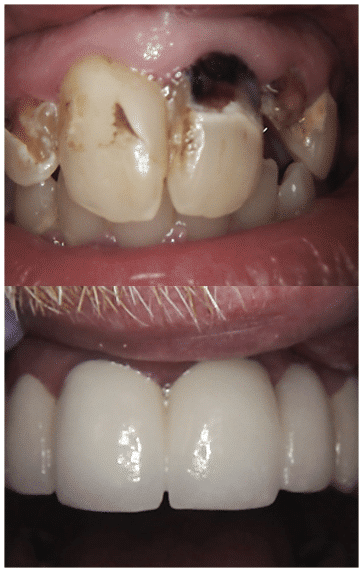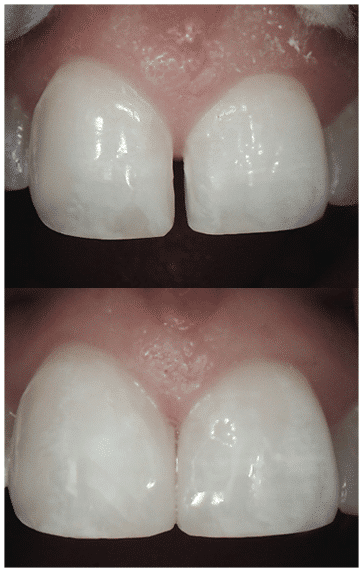 Have Questions?
We encourage you to contact us whenever you have an interest or concern about dentistry procedures such as porcelain veneers, dental implants, and teeth whitening in Raleigh. Please fill out the form below and a member of our team will reach out to you shortly. Thank you.